"Bandakka" is what we call okra in Sinhalese and "ladies' fingers" is another commonly used name in Sri Lanka.  This is a favourite curry at our home. Especially my daughter's. Even when I was young this was my favourite too. I can remember as a young girl when I come home from the convent  (St. Mary's Convent Matara) for school holidays my mother especially made this for me. Now I do the same for my daughter.
250g okra
2 red onions
1 green chilli
1 clove garlic
1 tomato
small piece of cinnamon
¼ teaspoon turmeric
¼ teaspoon curry powder
¼ teaspoon fenugreek
1o curry leaves and 1" rampe
¼ cup thin coconut milk
½ cup thick coconut milk
salt to taste ( ½ teaspoon )
Wash okra and cut into 1" pieces. When you cut them, cut carefully and check for any worms or insect infestation.
Add all the ingredients into the pan except the thick coconut milk.


Cook in a medium heat covered with a lid. When coconut milk starts to boil, stir and cook till okra cooked in half.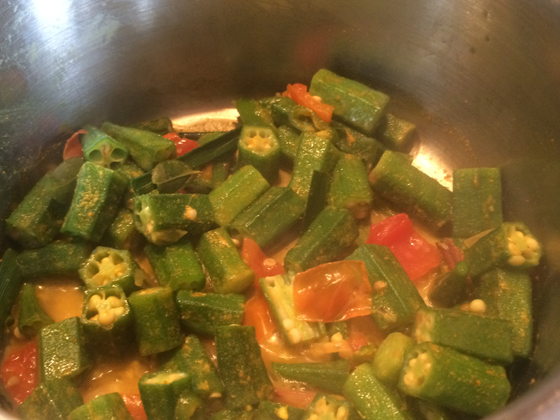 Then add thick coconut milk and cook the other half uncovered in low heat. Simmer till gravy is thick and reduced. Always taste the curry before you remove from the heat.

Note.
If you cover with the lid after adding the thick coconut milk, you will loose the bright green colour of okra.
Enjoy….!