Ingredients
1kg 250g Tomato
1 table spoon chopped garlic (or minced)
1 tablespoon chopped ginger
1 1/2 tablespoons chopped red onions
1/2 teaspoon powdered cloves
1/2 teaspoon powdered cinnamon
1/4 teaspoon powdered nutmeg
1 teaspoon salt or to taste
2-3 tablespoons sugar or to your taste
1 tablespoon chili powder or to your taste
2-3 tablespoons vinegar


Wash and air dry the tomatoes or pat them dry with a kitchen towel. Cut up small pieces or pass through the food processor.


Cook only the tomatoes in a pan stirring occasionally for about 6-8 minutes on medium heat until tomato is soft.


In the mean time mix all the other ingredients (except sugar) together and pour into the tomato.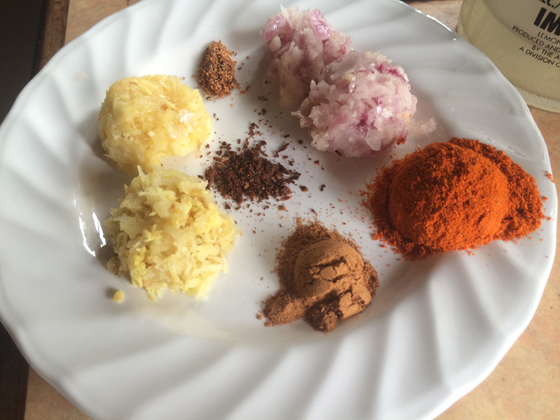 Cook further with lid on for about 10-15 minutes.


Strain the tomato mixture and add sugar.


Place the pot back on heat and cook stirring until mixture is thick.


Note.If tomato is too watery mix 1 tea spoon cornflour in a little vinegar, then cook further a few more minutes.
Before you fill the sauce, sterilize the bottles first.
Boil a large pan of water. When water starts boiling, put the bottles and caps you chose to store the sauce into the pot.
Let the water boil for 3-4 minutes in a medium heat.


Fill the sauce into bottles while hot.


Delicious home made tomato sauce is ready.


Enjoy……!
" Anoma's Kitchen with love "