Dhal is cooked in every house in Sri Lanka. Some people cook it every day. There is a saying "At least a girl should learn how to cook a dhal curry". So, for the beginners this is a great first cooking lesson because this is quick and easy.
Everyone have their own way of making this. But I will show my method. Later you can customise it to your liking.
Dhal Curry ( Red Lentils )


Ingredients
½ cup dhal
2 red onions sliced
1 green chili sliced
1 clove garlic crushed
1  sprig of curry leaves
2" rampe ( pandan leaves )
¼ tsp turmeric
¼ tsp fenugreek
½ tsp chilli flakes ( optional )
small piece of cinnamon
salt to taste
1 cup thin coconut milk
3/4 cup thick coconut milk
Method.
Soak dhal for about 10 minutes and wash thoroughly. Put all the ingredients except thick coconut milk.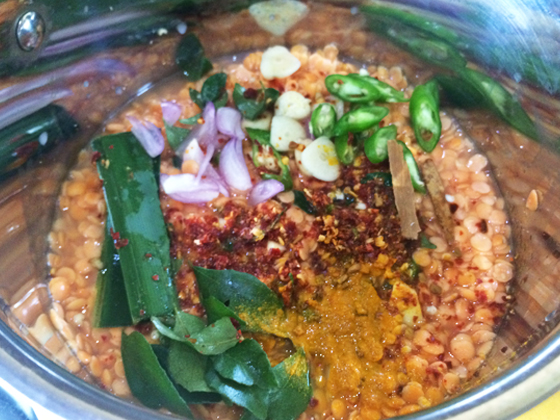 Cover with a lid and cook in medium heat till tender.

Then add thick milk. Let it simmer for further 2-3 minutes till gravy become thick.
Some prefer to cook till dhal get soft and mushy.
And some prefer with the tempered with onion garlic and chilli.

Serving Suggestion- Pol sambol, Bread and egg
Enjoy…….!