Tasty chicken curry depend on the good quality roasted curry powder, and for the good thick curry, I use roasted and ground grated coconut and rice. you can prepare this and keep for around one month in your spice rack.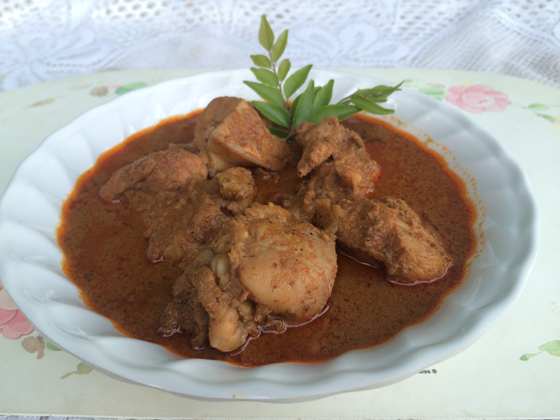 Ingredients
750g – 1 kilo chicken cut into pieces
3 – 2 teaspoons roasted chillie powder
2 teaspoons roasted curry powder
2 teaspoons garlic ground
2 teaspoons ginger ground
5 red onions sliced
2 green chillies sliced
2" rampe
1 sprig curry leaves
3 cardamoms
2 cloves
1 teaspoon ground rice and coconut paste
4 tamarind seeds dissolve in ¼ cup water or 1 tablespoon vinegar
1 teaspoon Salt
1 cup thin coconut milk
1 cup thick coconut milk
Roast and ground together
1/2 cup grated coconut
2 tablespoons rice
small piece cinnamon
1 sprig curry leaves
1″ rampe cut into small pieces
Roast all these ingredients in medium heat until golden. Grind while hot to a smooth paste.


Put ginger, garlic, roasted chillie powder and gound coconut paste and grind to a smooth paste and mix with the chicken,


Mix all the ingredients except the coconut milk.


Cook in a very low heat for a one minute.Add the thin coconut milk and cook low heat until the chicken is cooked.


Add the thick coconut milk. and cook until gravy is thick.


Serving suggestions.Snake gourd curry, keselmuwa thempered,and kola mellum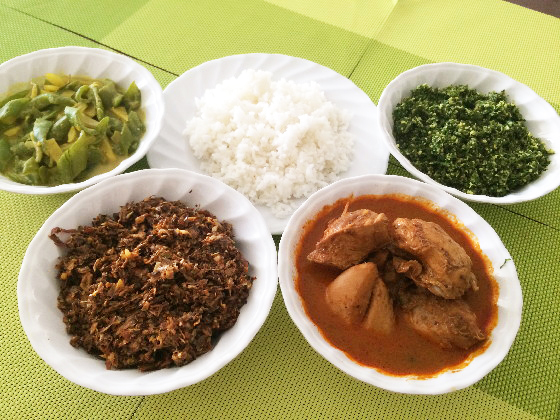 Serving suggestions.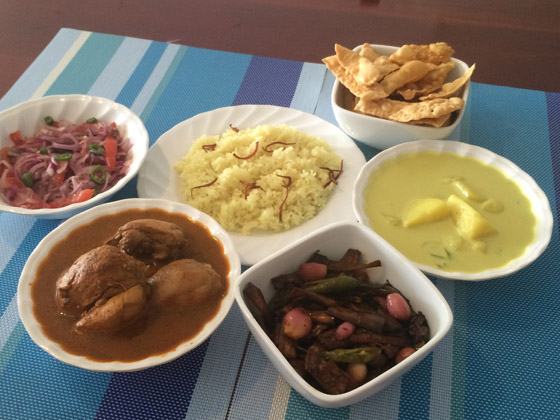 Enjoy……….!