This is a traditional Sri Lankan  dish. It is lesser known among the current young housewives. Mostly because they are lazy to make the extra work that involves in making the coconut paste. But it is to easy make with an Asian grinder or mortar and pestle. Even though it involves some extra work, its taste is worth the hassle.
In Sinhalese we call pumpkin as "Vattakka". For this curry we call " Vattakka Niyambala.
Niyambala means making a curry with creamy coconut paste. For this paste we add scraped coconut, ½ teaspoon of raw rice, garlic, and mustard seeds and grind them to a creamy paste. Rice is added as a thickener. When the curry boils ground rice helps to thicken the curry.
Even though above ingredients are traditionally used for the Niyambala paste, I add cumin seeds as well. It gives a nice aroma and the taste to the curry. I learned that from my sister-in-law Madhavi. Thank you akka for the tip.
250g pumpkin cut into 1 ½" chunks
3 red onions
1 green chilli
1o curry leaves and 1 '' rampe
small piece of cinnamon
¼ teaspoon turmeric
10 seeds fenugreek
¼ teaspoon curry powder
10 curry leaves and 1 '' rampe
¾ cup thin coconut milk
½ cup thick coconut milk
salt to taste
Ingredients for the paste
2 tablespoons scraped coconut
3 cloves garlic
¼ teaspoon mustard seeds
little bit of cumin ( half of a ¼ teaspoon )
Grind all the above ingredients to a creamy paste adding some water


After Grinding to a paste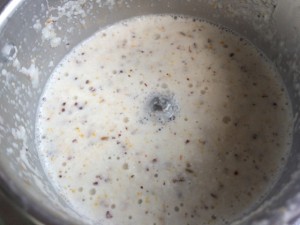 Add all the ingredients except the thick coconut milk and the ground coconut paste.
Cook in a medium heat covered with a lid.


When milk starts to boil, stir occasionally and cook until all pumpkin chunks are cooked (but do not over boil).

Then add thick coconut milk and the coconut paste, cover the pan with a lid and cook for 2-3 minutes in low heat.


Then simmer further few more minutes till gravy is thick. This is a curry with little gravy .

Serving Suggestions. Capsicum stir fried, Fish curry and Green leaves

Enjoy……!